Login
Log in if you have an account
Dont have an account? Register
Samira 13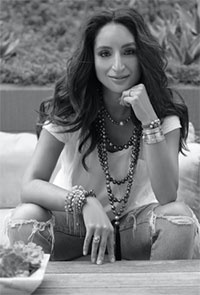 Samira 13 is a fashion jewelry line launched in 2008 by Los Angeles-based designer/sculptor Samira Sizdahkhani. Born into a fashion family, Samira started designing at age 12 in the workshop, her mother's famed D.C. fashion mecca, Tabandeh.
Shortly after completing university, Samira worked as a fashion stylist in L.A. for a brief stint, and it was there that her love affair began for Tahitian South Sea pearls. She soon started to dream up jewelry to fulfill her own desire for versatility and a golden mean between casual and formal. This balance has become the cornerstone of the Samira 13 collection.
Primitivism, tribal cultures, monasticism, and dreams of ancient Persian nomadic treks, continue to be the dominant themes, which have led Samira to the use and combining of such unorthodox materials as distressed metals, tattered silks and chiffons, raw leathers, and uncut, unpolished diamonds.
She is constantly striving to exploit this tension of rich vs. poor, while exploring the mythical significance of the ever elusive Tahitian Black Pearl, whom along with its Australian cousin, carries the universal symbols of fertility and life cycles as well as a divine presence, or beacon, guiding the spirit on the path to perfection in several ancient cultural scriptures.