Shop the BEE COLLECTION and receive 20% off the entire month of May!
Login
Log in if you have an account
Dont have an account? Register
February Issue of Cherry Creek Lifestyle
01 Feb 2022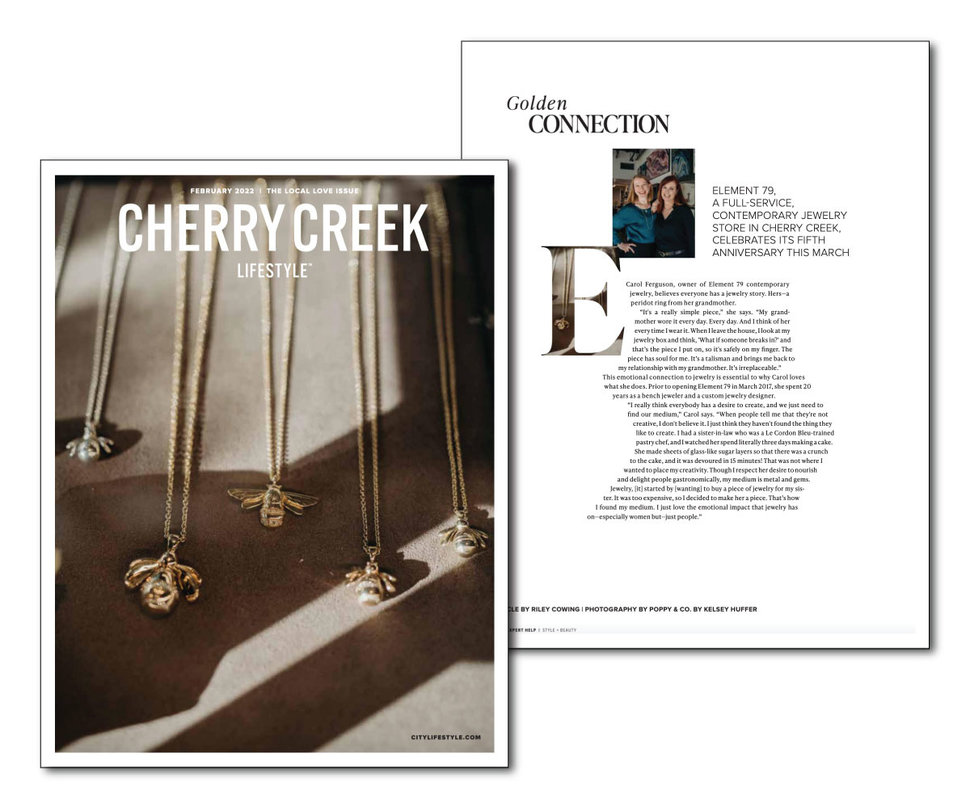 We made the cover of Cherry Creek Lifestyle in February!
Read the article below, or click here to visit the online issue.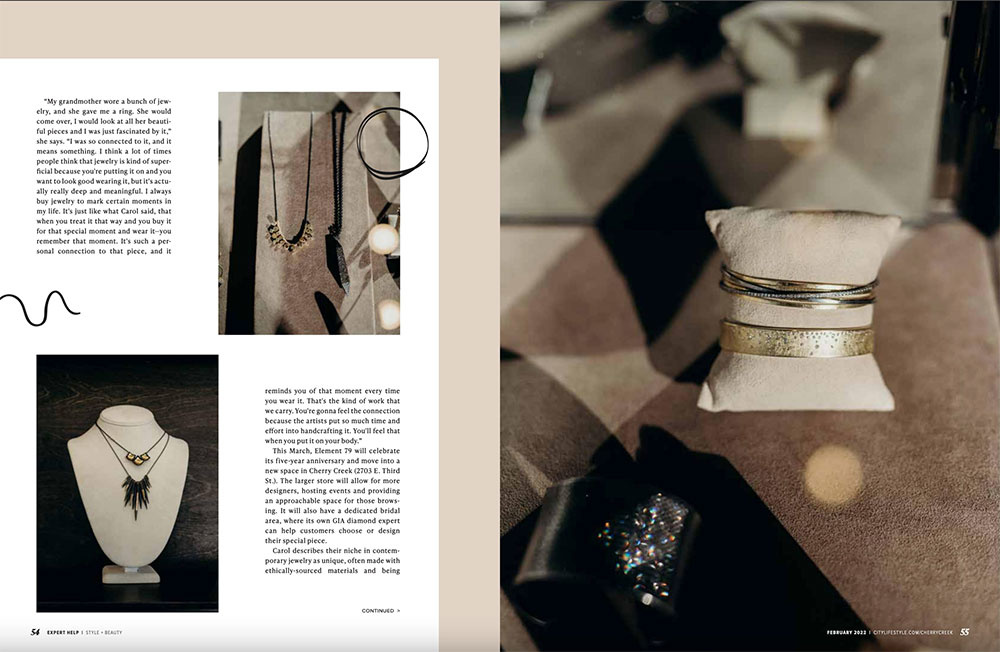 ************************
Carol Ferguson, owner of Element 79 contemporary jewelry, believes everyone has a jewelry story. Hers—a peridot ring inherited from her grandmother. 
"It's a really simple piece," she says. "My grandmother wore it every day. Every day. And I think of her every time I wear it. When I leave the house I look at my jewelry box, and  think, 'What if someone breaks in?' And that's the piece I put on, so its safely on my finger. The piece has soul for me. It's a talisman and brings me back to my relationship with my grandmother. It's irreplaceable."
This emotional connection to jewelry is essential to why Ferguson loves what she does. Prior to opening Element 79 in March 2017, she spent 20 years as a bench jeweler and a custom jewelry designer. 
"I really think everybody has a desire to create, and we just need to find our medium," Carol says. "When people tell me that they're not creative, I don't believe it. I just think they haven't found the thing they like to create. I had a sister-in-law who was a Le Cordon Bleu trained pastry chef, and I watched her spend literally three days making a cake. She made sheets of glass-like sugar layers so that there was a crunch to the cake, and it was devoured in 15 minutes! That was not where I wanted to place my creativity.Though I respect her desire to nourish and delight people gastronomically, my medium is metal and gems. Jewelry, [it] started by [wanting] to buy a piece of jewelry for my sister. It was too expensive, so I decided to make her a piece. That's how I found my medium. I just love the emotional impact that jewelry has on—especially women but—just people." 
Carol says that one of the best parts of her job is learning about her customers' emotional connections to pieces. "Every day we meet people, and they tell us really heartfelt stories about a piece of jewelry someone gifted them, a piece they inherited from someone they love, a piece they lost that they really can't replace. They could replace the piece, but they can't replace the sentiment. It's a talisman for our feelings for other people and for our memories."
Previous Element 79 customer and now brand manager Christine Mulcahy's love for jewelry also started with her grandmother. 
"My grandmother wore a bunch of jewelry, and she gave me a ring. She would come over, I would look at all her beautiful pieces and I was just fascinated by it," she says. "I was so connected to it, and it means something. I think a lot of times people think that jewelry can be  superficial because you're putting it on and you want to look good wearing it, but it's actually really deep and meaningful. I always buy jewelry to mark certain moments in my life. It's just like what Carol said, that when you treat it that way and you buy it for that special moment and wear it—you remember that moment. It's such a personal connection to that piece, and it reminds you of that moment every time you wear it. That's the kind of work that we carry. You're gonna feel the connection because the artists put so much time and effort into handcrafting it. You'll feel that when you put it on your body."
This March, Element 79 will celebrate their five year anniversary and move into a new space in Cherry Creek (2703 E. Third Ave.). The larger store will allow for more designers, hosting events, and providing an approachable space for those browsing. It will also have a dedicated bridal area, where its own GIA diamond expert can help customers choose or design their special piece. 
Carol describes their niche in contemporary jewelry as unique, often made with ethically-sourced materials and being close to the maker (versus mass-produced). She knows it's important for people to know where their jewelry comes from, especially since it's a financial investment, and Element 79 is happy to provide that for their customers. 
"Back in the day, it was kind of a dirty business the way that they mined for gold and gems," she describes. "It was hard on the environment. It was hard on the people that acquired the raw materials. But most of the jewelers that we have in our store, they're really involved in ethically-sourced metals and gemstones, recycled metals and gemstones." 
Element 79 does feature local designers, like Todd Reed, as well as Carol herself, who has two collections available. 
"I wanted to make jewelry that women would buy for themselves," she says. "I think women want more of a contemporary, unique kind of jewelry. It's not like, 'I want the tennis bracelet, and it better be bigger than my friend's same tennis bracelet.' [or] 'I want the diamond studs, and I want them this big.' Women want things that really speak to them, that reflect their personal style and are worthy of their memorable life moments and that's the kind of jewelry that we carry."
Christine says that while their team collaborates on selecting designers, Carol finds designers that have something unique to offer visually. 
"They each have their own aesthetic. We like to highlight the artistic approach of each designer." she says. "All the designers we carry have something unique and interesting about them, so you have a higher chance to feel that connection because of that visual aesthetic [and] the care that they take."