TWO IN-STORE DESIGNER EVENTS: Pamela Zamore August 14th & Dana Bronfman August 21st!
Login
Log in if you have an account
Dont have an account? Register
Shannon Koszyk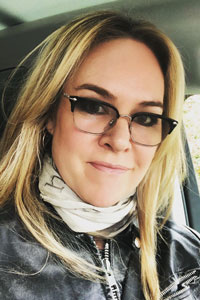 Through a darkly romantic lens, Shannon Koszyk's creations observe another time and place in history. Artisanal gothic anthropology is the best way to describe her provocative interpretation of ancient symbolism and nouveau art. She breathes new life into forgotten relics and iconography, enriching them with precious metals and gemstones.
Her unorthodox designs celebrate the spirit and beauty of the individual. Shannon's work is multi-layered and peppered with historical and religious symbols. Faithful to her motto, "Fortune Favors The Bold," Shannon's designs are often referred to as edgy, sexy, dark and dangerous, with a strong rock 'n' roll influence while retaining a casual elegance.