E79 Welcomes Designer TODD REED October 22nd for an in-person event!
Login
Log in if you have an account
Dont have an account? Register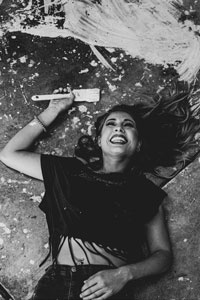 Sofia Hernandez Crade grew up in the rural town of Divide, Colorado, a place still teeming with untamed beauty where the sound of mountain lion calls and coyote howls sing louder than the rumble of passing cars. There she played amongst the aspen groves and ponderosa forest naming the trees as she went.
Sofia enjoys working in a variety of different mediums including sculpture, oil, watercolor, and pastel. Recently she has gravitated towards multimedia projects in resin. This mixing of materials allows her pieces to develop in unexpected ways. For Sofi, there is no better feeling than allowing oneself space to play and experiment. She strives for her work to feel fresh, playful, and alive with energy. This bold process-based approach and her emotive line quality give an added sense of movement to her works, and her courageous use of color leaves the eye yearning for more. When asked what medium is her favorite, Sofi often responds, "Whatever I have in my hands at the moment!". She truly believes that art should be lived. "Whether it be making dinner, sculpting, painting, or sewing, we should live each day striving to bring art and beauty into this world! After all, life is what you make!"